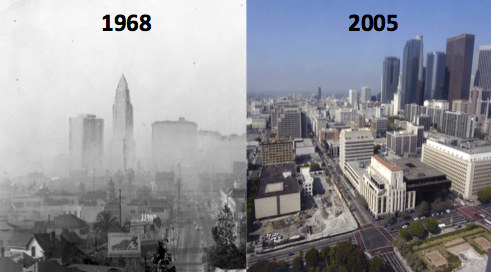 The Home and Garden Channel (HGTV) is the top rated cable network on the weekends. At the end of every remodeling show on HGTV is the big reveal, dramatic "before and after" footage of the transformation of the kitchen or bedroom.
How does this relate to EPA? On my Muse of Eloquence blog (which deals more generally with policy and communications issues), I discussed the Democratic losses last week, diagnosing it as a communications problem, not a policy problem.
This is doubly true with respect to the Environmental Protection Agency. Specifically, the Environmental Protection Agency needs to improve its brand image, not just among young voters (or, non-voters, as is more accurate), but with voters that turn out on a regular basis. To do so, it must make the impact of environmental regulation personal.
Fortunately, the EPA has a lot of "before and after" images to use in its advertising campaign. For example, above is a picture of air pollution in Los Angeles in 1968, before the Clean Air Act was passed in 1970, and 2005, 35 years later (Image courtesy of the Cooperative Institute for Research in Environmental Sciences (CIRES) at the University of Colorado Boulder).
CIRES conducted a study on what caused the reduction in air pollution. Although population has tripled in LA since 1968, according to lead study author Ilana Pollack:
LA's air has lost a lot of its 'sting,' Our study shows exactly how that happened, and confirms that California's policies to control emissions have worked as intended.
"Before and after" footage is compelling because, by viewing the pictures, we are experiencing the change personally. The EPA (and other Federal agencies, for that matter) needs to reframe the debate by spending more (a LOT more) of their budgets on advertising showing the American people the transformative impact that regulation has had on everyday life. We await the big reveal in 2016.